Development
Planning & Conversion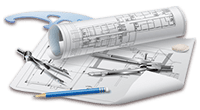 The experience of WST's employees now covers a period of more than 30 years. This is particularly reflected in the development and further development of the product range. The focus here is, of course, on customer-specific adaptations.
Each component is individually developed and calculated according to technical needs and requirements. Special emphasis is also placed on technical documentation. As a rule, the documentation is already with the customer before the actual delivery. The advantages are obvious: Any special features, e.g. during assembly, can be clarified in advance.
Smaller repairs, e.g. replacement of wearing parts, are considerably simplified. The procurement of spare parts is also facilitated. Last but not least, all legal requirements are naturally met.
Repair & Maintenance of clamping systems
Expand the service life of your clamping elements: Reduce costs!

In addition to the production and assembly of clamping elements, maintenance and repair are also part of the range of services offered by WST clamping systems. Like every heavily stressed component, expansion shafts, expansion mandrels and expansion chucks also require regular maintenance and servicing.
In addition to the smooth replacement of wear parts, extensive repairs and conversion measures, e.g. to further reduce weight, are also carried out in the company's own workshop. Timely maintenance pays off in any case!
If defects only become apparent during production, the associated consequential costs due to loss of production are often many times higher.
In order to avoid such failures or costs at best from the outset, WST Spannsysteme offers you complete support – from the design and manufacture of your clamping elements to professional reworking and maintenance.
Contact us and we will answer all your questions about industrial clamping systems.
Talk to us…
We would be pleased to advise you
Subcontract
In addition to manufacturing our own products, we also offer services on modern conventional and CNC-controlled lathes and milling machines.
We manufacture and realize single parts as well as serial parts according to customer requirements.
Precision and quality as well as reliability and adherence to delivery dates are a matter of course for us.
Machining options for turning and milling
With our lathes we can produce components up to Ø 540 mm and a max. wavelength of
5040 mm. For short components with a maximum wavelength of 250 mm, we can machine a maximum Ø of 900 mm.
With our milling machines we can machine components up to Ø 400 mm and up to a length of 3000 mm.
Edit Maximum travels in X => 1600 mm Y => 700 mm Z => 700 mm
We bid:
turning
milling
boring
grinding
hardships
MIG/MAG welding
TIG welding
We process:
structural steels
heat-treatable steels
case-hardening steels
tool steels
Stainless steel
cast iron
Aluminium
brass
bronze
copper
synthetic materials