WST Standard Clamping Coupling ADX
With a clamping range of 148-158 mm, the expansion couplings are pushed and clamped in pairs onto an existing expansion shaft, e.g. type SWX, SWY or onto a bare carrier shaft, depending on the winding core width.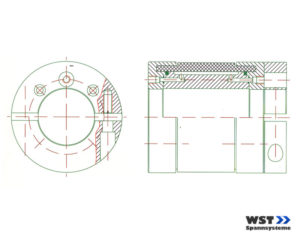 Depending on the diameter of the expansion shaft or carrier shaft, the clamping shells can be turned out from 40-75 mm as standard. Special sizes are available on request.
A compressed air gun fills the coupling with 5-7 bar through the radially or axially arranged quick exhaust valve. Several couplings can be connected to each other via a spiral hose, so that the air only has to be supplied on one side.