Expansion shaft FSW
The friction rings installed on the hard chrome plated and ground carrier shaft clamp the closely tolerated and hard cardboard sleeves by a short rotation in running direction.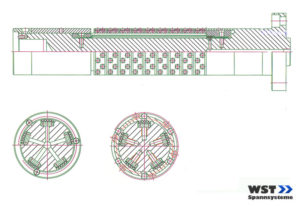 A fixed air supply supplies the flat hoses with the required compressed air. The compressed air varies from 0-7 bar, depending on the roll diameter and the specified web tension. This presses the friction linings above against the inner rings of the friction bodies. The friction force generated in this way transmits the required torque to the individual rolls to be wound.
In order to achieve uniform winding or slipping of the rolls, the friction shaft speed must be up to 5% faster than the web speed.
After a short rotation in the running direction, the finished rewound rolls can be easily removed.
The FSW friction expansion shaft is available for winding cores with an inner diameter of 50-305 mm. On request, this expansion shaft is also available in other dimensions.